From: "Ray McEachern"
Date: May 12, 2014 11:29:37 AM EDT
Subject: Former Orange County Chief Deputy Believes Ku Klux Klan Behind Murders in Supreme Court Death Row Appeal
Former Orange County Chief Deputy Believes Ku Klux Klan Behind Murders in Supreme Court Death Row Appeal
 
A conference is scheduled this week in the U. S. Supreme Court in the appeal of death row inmate William Thomas Zeigler. Mr. Zeigler has been on death row in Florida for 38 years. The Florida Supreme Court ruled in November 2013 that Zeigler was not entitled to a new trial despite the evidence of lies and withheld exculpatory testimony. Zeigler was convicted of the Winter Garden murders of four people in his own furniture store on Christmas Eve 1975. The petition filed by Zeigler's pro bono New York attorney asks the court to clarify the law with regard to prosecutorial misconduct.
Leigh McEachern, the Under Sheriff of Orange County, Florida, at the time of the murders has filed an Amicus Curiae Brief with the SCOTUS in support of Mr. Zeigler's appeal for a new trial. Former Chief Deputy McEachern has alway believed there was a rush to judgment in the case. Zeigler was arrested while still in the hospital recovering from a near fatal gunshot wound to the abdomen which the prosecution claimed was self-inflicted.
The attached Amicus Brief explains McEachern's reasons for believing the motive for the crime was based on racial hatred in a rural area of Florida well known for Ku Klux Klan activity. Zeigler, who is white, had been involved in efforts to improve race relations and had helped a black friend to keep his business just four months before the murders. Ironically, the judge who sentenced Zeigler to death, over-ruling the recommendation of the jury, had actively opposed Zeigler's effort to help his friend.  Zeigler's support for Andrew James, who had one of the few black-owned bars in Orange County at the time, was instrumental in his keeping his business.
The Amicus Brief has also been posted on the web site  http://www.freetommyz.com which maintains most of the recent petitions and rulings in the case as well as facts and pictures of the crime scene. The web address of the Amicus Brief is http://freetommyz.com/yahoo_site_admin/assets/docs/Amicus_brief4-signed.129120956.pdf
---
Decade after decade, Orange County remains one of the Sunshine State's most corrupt counties. William "Tommy" Zeigler killed no one; he was almost killed himself. The most up-to-date book about Tommy's frame-up is Zeigler, Through Vidster's Eyes, available – free – from Smashwords:
https://www.smashwords.com/books/view/152593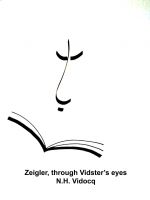 It bears repeating that Orange County luridly knotted Tommy's prosecution to Gary Stanley Bennett's, which was only in their hands through a doubly-tainted transfer from Brevard County.
The initial taint, in 1984, was then-Governor Bob Graham's transfer of the investigation of charlatan dog handler John Preston's credibility from Brevard to Orange, despite Linroy Bottoson being convicted in Orange with Preston and the the FBI's assistance. Preston was – of course – found credible, in defiance of a federal court's finding Preston wholly incredible in 1982 in Dale Sutton's case.
With the Graham taint in no way resolved (and in fact amplified by Preston's alleged trainer, Thomas McGinn being prosecuted here in St Lucie County for frauds involving the purchase and sale of K-9 dogs), Gary's Brevard/Preston prosecution was transferred to Orange, where prosecutors recycled the homosexuality lie it had used against Tommy to deviously (staged photo) and erroneously (per DNA) explain blood patterns. Despite it defying the original theory of the crime in Gary's prosecution, for absolutely no reason at all, Orange prosecutors accused him of homosexuality.
Gary's transfer from Brevard to Orange was initially authorized by Charlie Crist, and was reauthorized by Rick Scott.
Both men received electronic correspondence from me objecting to Gary and other's tainted transfers.
Neither Crist nor Scott is concerned with killers roaming free while innocents serve their time, a combined 68 years so far in Tommy and Gary's cases alone. Yet both believe men themselves deserving of another term as Florida's governor.
It is in Floridians best interests to check out two other declared Democratic candidates still in the race – Nan Rich and Farid Khavari. Absolutely anyone can be framed in the Sunshine State … Tommy Zeigler was a successful business owner; a millionaire when being a millionaire still meant something. It isn't just Floridians' freedoms that are at stake. No one is protected by having innocent men serve killers' time except the actual killers.