Smashwords – Zeigler, through Vidster's eyes — a book by Alice de Sturler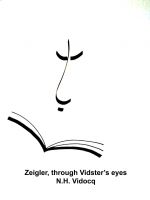 Smashwords – Zeigler, through Vidster's eyes —a book by Alice de Sturler.
When you read this powerful little book, please keep two things in mind; 1) William Thomas Zeigler's fortune didn't shield him from the public misconduct that put him on death row 37 years ago, and 2) the math portrayed in my headline – #FreeTommyZ + #FreeGaryBennett = #FreeJeffAbramowki + #FreeCrosleyGreen + more – is sound.
And while keeping these two things in mind, please know that although Central Florida's police, prosecutorial and judicial corruption may be near the top of the charts nationwide, it's hardly unique.
What may be regionally unique is that Central Florida's still-standing frame-ups are within the national mainstream media's knowledge as well as that of Florida's highest officials and the Justice Department, FBI, Senate Intelligence Oversight, etc.
Knowingly holding innocents hostage keeps killers free, and we're lucky when it only results in flushing tax dollars down the drain – many killers kill again and again, until they're caught, become incapacitated, or die.
If the NFL was refereeing criminal trials, we'd be safe. But the ABA is refereeing trials, and we're not.
Jeff Ashton's prosecutorial teams tied Tommy's frame-up to Gary's with the same lurid lie, and there was no flag on the play either time.
Please take the time to read Zeigler, through Vidster's eyes, and to share this post on Twitter, Facebook, etc. Thank you.